Our Services
We offer a wide range of services. Our professional team has decades of experience and professional training that sets us apart from all of our competitors. We have been around film, slides, video tapes and photographs since the 1970's and we have catering our services to professionals but we have seen the growing need for these professional services to extend into the consumer marketplace.
We can transfer your family or home recorded tapes to DVD(s) or to a MP4 video file so you can preserve your memories in this digital age. We can transfer VHS, VHSc, miniDV, and Hi8 video.
Transfer your film to a digital format. HD and SD options are available. We can transfer your film to DVD or to a MP4 video file.
Scanning your photographs and documents so you can preserve and share them forever in a digital format.
We are professionals when it comes to handling your families slides and film. We can capture using the best state of the art scanners and capturing programs.
Do you have old cassettes or reel to reel tapes with priceless interviews with loved ones? Relive your past by transferring you cassettes, records, or reel to reels to CD or mp3. Save those memories before they disappear.
We can restore a old family photo back to as close to original condition as possible. Cracks, faded images, and blemishes can repaired for your image to be brought back to life.
We use the finest when it comes to printing our photographs. We are still old school and use true photographic printers, NOT inkjet printers, when we print your pictures.
Using the best archival inks possible we can print your photographic or art work. We can make up to a 44" wide by however long print.
We can take your analog or digital pictures and create a slideshow for you to all of your loved ones, co-workers or guests.
We know all to well what it is like when a loved one passes away. We offer special services and prices for you are in need.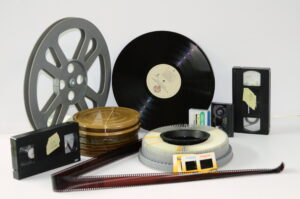 Let us preserve your family memories
Contact us today to see how we can help you.